Courtesy of Utica College Sports Information Dept.
Photos By – Jeff Pexton – Perfect Game Imaging
Utica, NY – The Utica College football team hauled in a school-record five interceptions and remained undefeated as the Pioneers topped visiting and nationally-ranked No. 23 Cortland State 24-13 in Empire 8 Conference action on homecoming at Charles A. Gaetano Stadium Saturday.
The Pioneers have now defeated two top-25 opponents in the last three weeks and have improved to 4-0 on the year for the third time in program-history. Utica returns to conference play next Saturday when it travels to Ithaca College to take on the Bombers at 1 p.m.
Senior running back Ryan Burnett (Mount Vernon, NY/Arch Bishop Stepinac) carried the ball 30 times for 144 yards and one touchdown in the victory. Burnett also caught four balls for a team-best 74 yards receiving. Burnett's 30 carries ranks fifth on the College's all-time single game list. He also moved into fourth on the College's all-time rushing list with 1,153 career rushing yards. Burnett's nine career rushing touchdowns now rank seventh on the College's all-time list.
The Pioneers took a 9-7 lead at the 12:02 mark of the second quarter after a one yard touchdown plunge by freshman Lindell Reed (Rome, NY/Rome Free Academy), marking his team-best fifth touchdown run of the season. Utica would not relinquish the lead for the remainder of the contest.
Freshman kicker Desmond Akpanoko (Roosevelt, NY/Roosevelt) made four field goals on the day, marking the second most field goals made in a single game in program-history. Akpanoko's 12 points tied for the second most points scored by kicking in program-history. He has now made seven of nine field goal attempts this season through four games.
Akpanako's 24 yard field goal with 7:50 to go before the half gave the Pioneers a 12-7 lead that stood through the half.
The Pioneers jumped out quick in the second half and took an 18-7 lead after a 31 yard touchdown run by Burnett with 10:22 to go in the third quarter.
Cortland responded with a 23 yard interception returned for a score to make it a 21-13 ball game with 4:57 to go in the third. That was as close as the Red Dragons would get as the Pioneer defense stood strong in the fourth quarter and held the visitors scoreless for the remainder of the game.
Akpanoko made two key fourth quarter field goals, including his fourth of the day from 31 yards out with 3:10 to go in the contest to make it a two score game and essentially seal the homecoming victory for the Pioneers.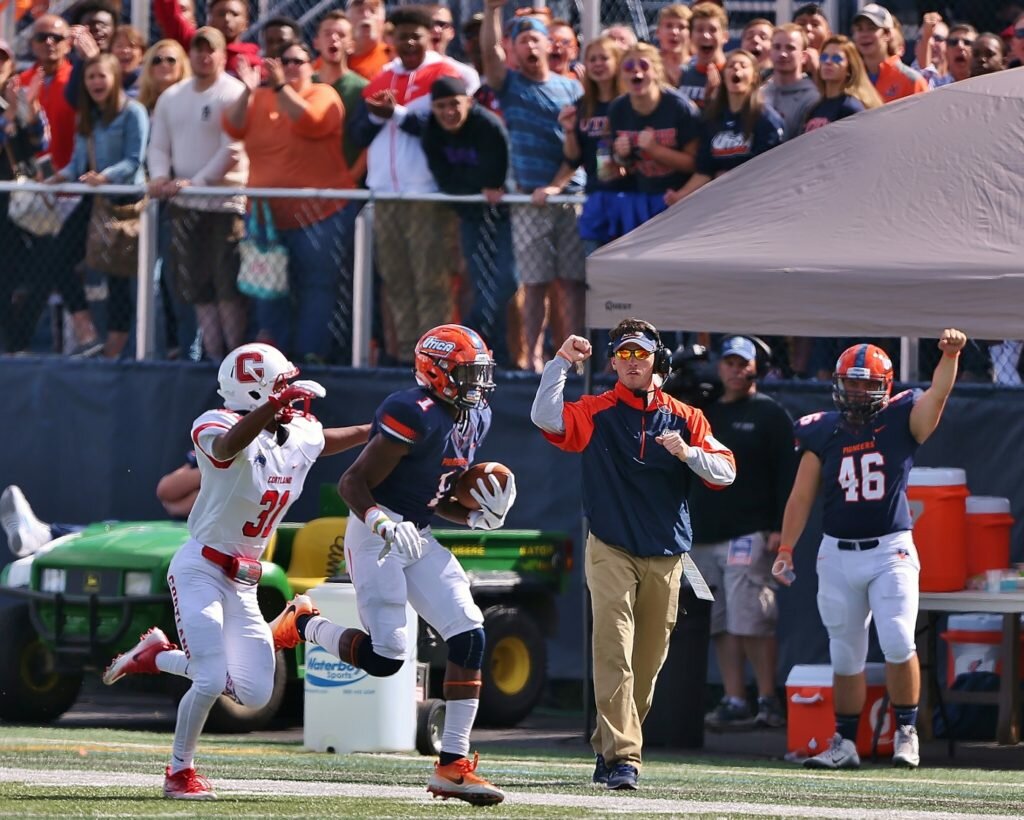 The Pioneer defense came up huge as it picked off five Cortland passes on the afternoon and held the Red Dragons to just 99 yards passing. Dehstin Smart (Paterson, NJ/Hackensack) led the contingent with a career-high two interceptions, while Anthony Beaubrun (West Hempstead, NY/West Hempstead),Anthony Bierria-Anderson (Freeport, NY/Freeport) and defensive lineman Nick Yelich (Lancaster, NY/Depew) each tallied one interception. Smart's interception, which bounced off a Cortland player's back and then off the helmet of teammate Matthew McCoy (Sherrill, NY/Vernon Verona Sherrill), was posted on SportsCenter's Twitter account and had over 1,000 retweets at the time of this release. Beaubrun and senior captain Juwan Wilson (South Ozone Park, NY/Holy Cross) tied for the team-lead with 10 tackles a piece. Smart came in with nine tackles.
Senior Jerred Beniquez (Port Ewen, NY/Kingston) caught a team-high six balls for 70 yards. Beniquez now needs 177 all-purpose yards to surpass Anthony Acevedo as the College's all-time all-purpose leader.
Senior quarterback Teddy VanGalen (Clifton Park, NY/Shenendehowa) completed 15 passes for 240 yards. Cortland starting quarterback DeAngelo Walker carried the ball 15 times for a team-best 66 yards and he also completed 10 passes for 86 yards and an early touchdown which gave the Red Dragons their only lead of the game, 7-3, midway through the first quarter.
Utica's Derrick Sekuterski (Depew, NY/Depew) made seven stops on the afternoon, while senior defensive lineman Nick Bruzzese registered one sack.
Cortland's Carson Lassiter and Tom Hagan each posted eight tackles to pace the Red Dragons. Mark DelPrete registered an interception and returned it for a touchdown for Cortland in the third quarter.
Cortland's record moved to 2-2 on the year and 0-2 in Empire 8 play.