Utica, NY – Going into the Perfect Game Collegiate Baseball League season, first year head coach Mark Moriarty didn't know what to expect from the Utica Blue Sox.
In summer collegiate baseball, a lack of predictability is often the norm. Players come from all over the country, and from all levels of college baseball. The talent ranges from local junior college players, all the way up to power five conference schools in Division I. The season is short and practice time is limited, often making it difficult to find a true sense of team chemistry.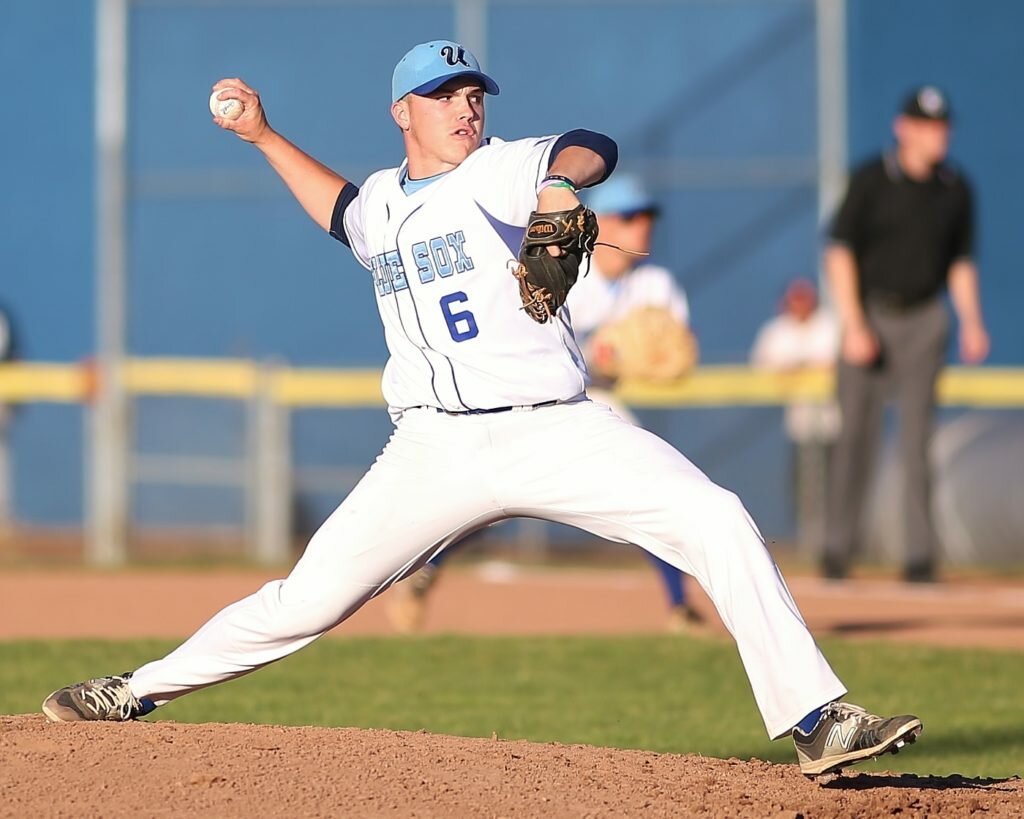 As the halfway point of the season approaches, the Blue Sox have taken the challenges of summer collegiate baseball head on. Moriarty is pleasantly surprised by his ballclub's progress, and with good reason. The Sox have taken the league by storm in their first 24 games, flying through the month of June at a league best 18-6 record.
They've been particularly formidable as of late. Utica recently collected a league-high nine game win streak, which included a sweep of a five game road trip, to a 3 game cushion in a crowded PGCBL West division that has had three different leaders beyond the first weekend of the season. In addition, this edition of the Utica PGCBL franchise is also inching closer to etching their name in the team record books. With three more victories, the Sox will tie their PGCBL franchise record of 21 wins set by last year's postseason qualifiers.
With the franchise setting the pace for the rest of the league, you may be wondering what their secret is. The reality is there are many building blocks to their success, and none of them are any secret.
Above all, the team's chemistry has stood out, especially given the frequent difficulties experienced by many teams in that area. Oftentimes, coaches have to bring players out of their shells with a new team. Moriarty says this team is different, and the players took the initiative from the day they arrived.
"Coming in, you never know what you're going to get," Moriarty said. "But after four days or so it was almost like we were talking too much. The guys were hanging out together, being friends. We've got a lot of leaders on this team, a lot of the guys are leaders on their college teams so it helps. You never know what you're going to get, but we got lucky."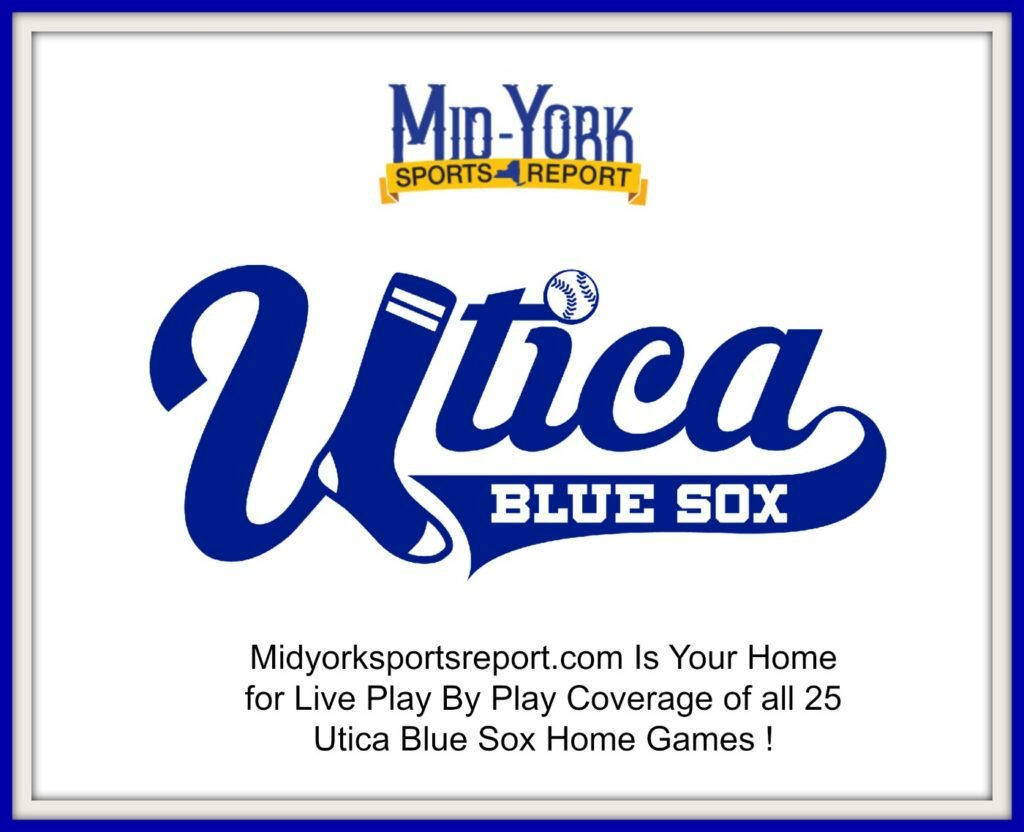 Having a nucleus of returning players has enhanced that good fortune. The Blue Sox brought back three players from last year's playoff squad, including outfielder Taylor Olmstead, second baseman Jared Baldinelli, and relief pitcher Jack McClure, all of whom delivered significant contributions to last year's club.
"For me, it's good because they're my go-to guys," Moriarty said. "Whether it's been questions on the league, or travel, you name it. They've been great. They started out being the leaders of the crew, and now everyone has bought in to winning. These guys want to win, and that's all part of their development too going back to college."
The spirit of unity has also molded Utica into one of the league's most resilient ballclubs, and into a team that always believes it has a chance to win regardless of circumstance. The Blue Sox have walked off with a win on four different occasions, and have come from behind to win in several ballgames this season. They've rebounded after surrendering leads, emerged victorious with the opponent threatening late, and hold a record of 5-1 in one run games. The scrappy nature of the Sox has been the plan all along, according to their skipper.

"It's been cool (to be part of the walk off victories)," Moriarty said, "We talked about this early on, about expecting to win and the mentality of having that expectation. We're never dead. We got down 5-0 to Adirondack (on Monday) and everyone on the bench was saying 'We're coming back'. It's all part of that mentality."
The team's baseball acumen compliments that mentality to a tee, as Utica has fielded a well-balanced, fundamentally sound ballclub spearheaded by one of the tightest defenses in the PGCBL. Prior to Wednesday's matchup with Mohawk Valley, the Blue Sox ranked fourth in the thirteen team league in fielding percentage and errors committed.
"Our defense up the middle is good, all three catchers can play, and our middle infield is awesome no matter who we're putting out there," Moriarty said. "Our outfield has to be one of the fastest in the league, all five of them can get the ball and cover a lot of ground."
As Moriarty noted, the outfield is fleet of foot across the board, and the five-man unit is as close to the total defensive package as you may find in any collegiate league, anywhere. The rangy unit of Junior College Gold Glove selection Mike Warren, Dylan Hutcheson, Anthony Young, Olmstead, and Franklin Jennings have dazzled fans, coaches, and teammates alike, saving runs with heart stopping catches and strong armed throws to any base.
Closer to the plate, LIU Post's Joe Spitaleri has found a home as the team's starting shortstop, while Miami University(Ohio)'s Kyle Winkler has kept a quality contact bat in the lineup while demonstrating the versatility to play multiple infield positions, with a focus on second and third base.
At the plate, the offense, which ranks fourth in the league with a .264 batting average and holds an on base percentage of .366, has been led by Jennings. The converted third baseman from Central Connecticut State has patrolled right field for the Blue Sox this season while breaking out huge numbers at the plate, posting a .338 average for the month of June with a team-best five doubles, and has caused havoc on the bases with twelve steals. Eckerd College's Mitch Calandra has provided a strong contact hitting option at the catcher position, batting over .300 and leading the team with 15 RBIs, while working in a platoon with Jack Goertzen and Hunter Losekamp, a deep group that has also proven their worth defensively. In all, Utica has seven regulars batting over .275, including Warren, Winkler, Hutcheson, Spitaleri, and Olmstead, who leads the PGCBL with five triples. The contact oriented bunch has produced from inside the park almost exclusively. First baseman Mason Fessler holds the team's lone homer of the season.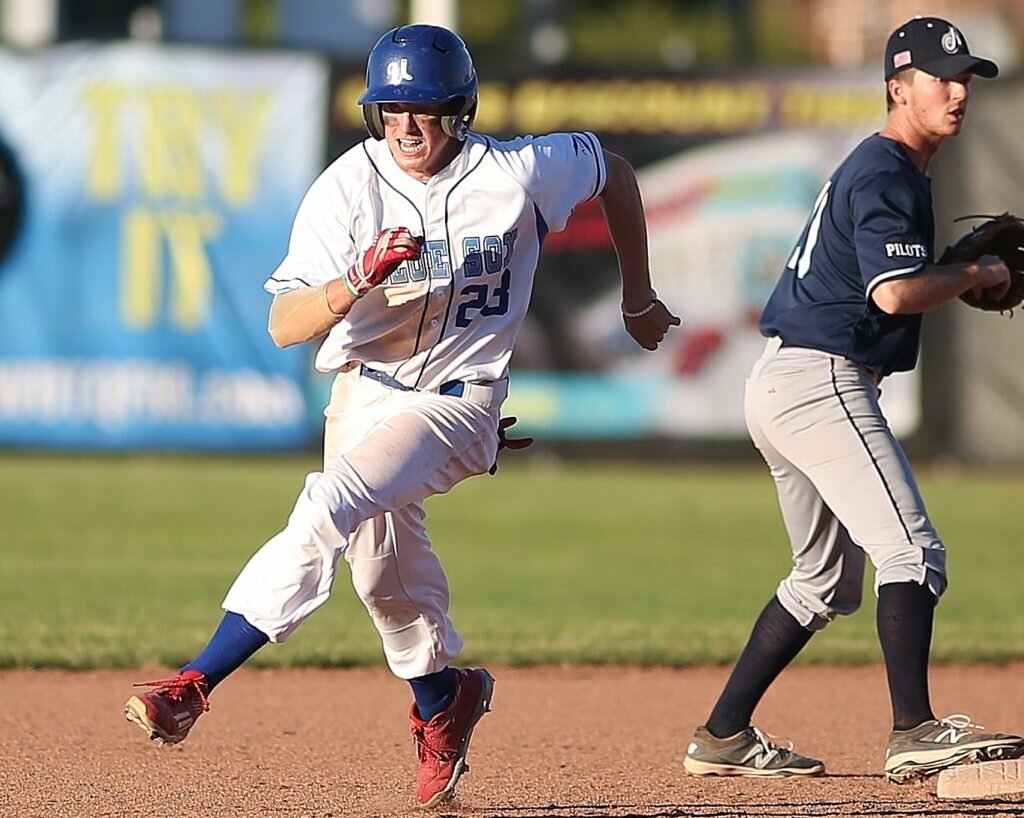 Last, but far from least on a balanced ballclub is the team's pitching staff, arguably the franchise's deepest since joining the PGCBL. The group holds a combined ERA of just 3.04, with the majority employing a pitching style that heavily emphasizes location and pitch selection. Nolan Freeman has been a rock in the Utica rotation since a complete game, three hit shutout in his debut at Oneonta. The junior college product from Mercyhurst is undefeated at 3-0 in four appearances, and has won the league's Pitcher of the Week award twice in the first month of the season. Michael Hope, of Shippensburg, has also exploded onto the scene in the Utica rotation, and has thrown well since earning a starting slot with a team-high 33 strikeouts in 25 innings of work. Dylan Gerdts, Brian Kavanagh, and Craig Prince round out the current rotation.
The bullpen has held many a lead, and has also been the beneficiary of Utica's late game heroics, as relievers Chad Burrows and Ryan Green currently sit tied with Freeman for the team lead in wins with three apiece. Jonas Lovin and Eric Handelman have posted clean sheets in their outings, as the pair have not allowed runs this season. McClure was off and running for the Sox early on in the season, allowing no runs and striking out nine in just over four innings pitched. McClure set a steady example for Utica's relievers, but has been on the shelf in recent weeks. Burrows has split time with George Navadel in a closing role, and the tandem has combined for six saves.
As the season turns to the latter half, the possibilities are seemingly endless if Utica maintains the sharp day-to-day approach that has put them in this position in the first place. Those possibilities just may include a championship.
"We gotta keep doing what we're doing, throwing strikes and making plays defensively," Moriarty said. "I know it sounds cliche', but we have to take it one day at a time. If we do that every single day and keep our focus on the next game, things will fall where we want them to."
After an off day Thursday, that next game comes today. The Blue Sox host the Glens Falls Dragons at 6:35 tonight at Donovan Stadium.