Category Archives:
Waterville
Area Teams Set Sights On Titles
Returning All-State players are every coach's dream when starting a team. Poland softball coach Greg Haver has the luxury of two in 2016, plus a number...




Several Teams Can Contend In Class C and B
By Nick Sardina Last season the Waterville Indians came within one shot of possibly winning a state championship. Repeating as Section III champions and...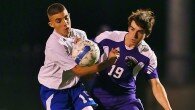 Mustangs Move On In Sectionals
By Perry L. Novak West Winfield – Mount Markham and Waterville split their boys soccer matches during the regular season, so Wednesday's rubber game...
Local Teams Hopeful
By Perry L. Novak Play begins October 20 for the Section III boys soccer tournament and many Mohawk Valley-area schools are among the contenders. Whether any can claim one of the five Class titles remains to be seen as none are top ranked. Class C finds five local teams involved and No. 3 Cooperstown has the highest seed. The Hawkeyes have a bye into the quarterfinals...

Section III Championships At Stake
Upstate New York – The high school sports regular season is over. Where did it go? Well, in Section III, the only people that can answer that question...
Father Time Dooms Waterville, Sauquoit Stands Alone In First
By – Ray Biggs Waterville  – In a game that was up for grabs, the Waterville Indians simply ran out of chances against Sauquoit Valley. Trailing...