Utica, NY  –  A ballclub typically doesn't expect to have too many questions to answer after a groundbreaking season.  After a monumental preseason rebranding, an eye-popping spike in attendance, a second place finish in the PGCBL West regular season, a divisional playoff title, and their first ever appearance in the PGCBL championship series, one question has defined the last 10 months for the Utica Blue Sox: What will they do for an encore?
That can be a difficult question to answer in the world of summer collegiate baseball, where year-to-year roster turnover is as common as balls and strikes as players seek even higher levels of competition while preparing for upcoming collegiate seasons and a chance to play professional baseball. There are still exceptions to the rule, with returning players and coaches considered to be some of the most valuable personnel assets in the PGCBL. That value in continuity is what Utica is banking on to answer the encore question that will help define the organization's success in their second year as the Blue Sox, and fifth in the Perfect Game Collegiate Baseball League as they also chase a third straight playoff appearance.

Continuity begins at the top end for the Utica Blue Sox on the coaching staff. In an era where the league's most successful franchises tend to retain coaches, the Sox welcome three of their four 2016 coaches back to the staff in 2017, with the lone change coming at the helm. Hitting coach Xander Uxley will ascend to the head coaching position, replacing Mark Moriarty. Uxley returns to Utica working a bit closer to home than when he arrived last summer, as he spent the academic year in the Empire State as an assistant coach at Ualbany and Utica. Former Utica Blue Sox pitcher Doug DeLett returns as the team's pitching coach for a second season, and Utica College assistant Mike Pepperine continues a multi-year run on the staff.
On the field, the Blue Sox will be led by a player whose tenure exceeds almost every coach named above in third year outfielder Taylor Olmstead. That tenure is long enough to have played under two different names and three different head coaches as the last remaining player in the league to have worn a Utica Brewers jersey. Longevity is just one part of the package, as Olmstead possesses the speed to play anywhere he's needed in the outfield, and can maximize the value of that speed alongside an explosive bat that turned in a franchise-record seven triples in 2016. He will look to get back in a power hitting groove this season, as he turned in a team best seven homers in 2015 before going without one in 2016, and will also need to continue to improve in his plate approach in 2017. Olmstead has played the past two seasons at DII power Southern New Hampshire following his freshman year at UConn.
Robby Young also returns to platoon at first base for the Utica Blue Sox, and coaches have continually lauded his ability to make plays on the bag at first as a key asset to last season's run. Despite hitting just over .200 for the regular season, Young scored the biggest run of the year for the Blue Sox when he converted the go-ahead run in a come-from-behind game 3 victory in the West Division finals against Elmira. He played this past season at Garden City Community College.
At a crowded catcher position, Hunter Losekamp may not have played as often as most players would like, but his presence was felt at the plate when his bat was in the lineup. In 53 at-bats and 18 games played he hit a solid .264 while producing with runners in scoring position with 11 RBIs. Losekamp had arguably the best offensive game of his life last summer when he doubled four times against Mohawk Valley in July. Losekamp now plays at Huntington in the NAIA, and appears to have added a fair amount of muscle to his frame during the academic year.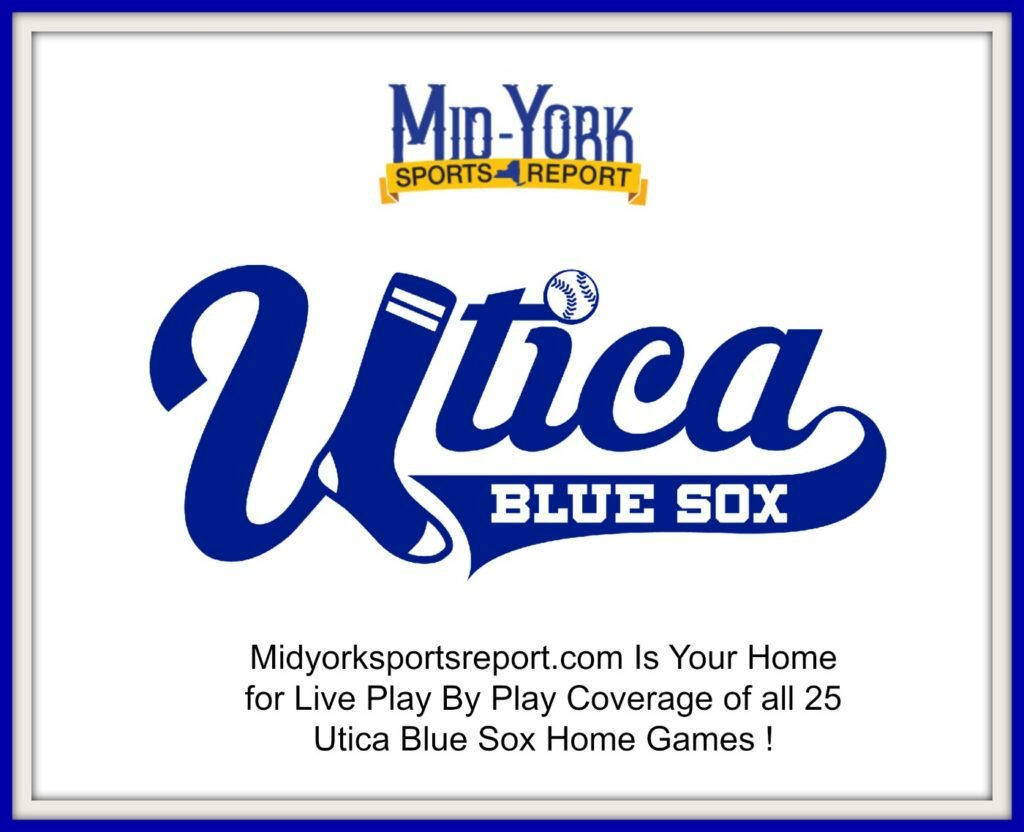 The familiar faces will be welcome in the clubhouse and to those in the stands, but Utica was also able to bring in familiar faces from other organizations. No acquisition may look bigger than that of outfielder Kyle Norman. The former Buffalo Bull was an offensive force in the PGCBL two seasons ago when he set the pace for the Newark Pilots as a .316 hitter with 22 RBIs while appearing in 43 games. Nathanial Popiel spent 2016 in the PGCBL but did not see the Blue Sox once as a member of the Saugerties Stallions as the teams were kept completely apart on the schedule. Utica is banking on Popiel to keep the baseball out of play as he notched 57 strikeouts in his junior season at NCAA Division II tournament qualifier Dominican.
Some other non-returners had such a good time in Utica last summer that others they knew have followed in their footsteps on the 2017 roster, thus extending the value of the team's continuity even further. Fan favorite and PGCBL All-Star Franklin Jennings is a senior right now preparing to embark on the road to Omaha in an NCAA regional for Central Connecticut State, but was ineligible to come back due to his class year standing. While he does not return, two of his high school teammates will make their first appearances in Utica this summer. Keystone College pitcher Dylan Leahy threw well on a 2016 D3 College World Series team, and pitched well enough for the Cortland Crush last summer to earn a spot in the NYCBL All-Star game. Southern New Hampshire pitcher John Thompson appears in Utica a season later than expected. He signed with the team for 2016 before Tommy John surgery put those plans on hold. The Jennings effect even permeated his own college roster at CCSU with lefty pitcher Austin Salnitis waiting to join the club until the end of their NCAA Tournament run.
Corner infielder Mason Fessler also did not return, but fellow Willamette Bearcat Cole Pursell is in the mix to see loads of time at the catcher position after throwing out close to 50 percent of the runners who tried to steal on him this spring.
PGCBL All-Star shortstop Joe Spitaleri was a possible addition to this summer's roster.  An injury plagued spring has left the LIU Post Pioneer out of Utica for the forseeable future, although management has not ruled out a possible return if the timing is right. In the meantime, fans can get to know two of his gifted teammates in outfielder Rob Andreoli and infielder Jimmy Mendyk. Andreoli is the complete package as far as Division II outfielders are concerned. He's accumulated a gaggle of awards this spring while leading his team to an NCAA regional berth, and with good reason after hitting .346 with 15 doubles, 44 RBIs, 5 homers and 44 stolen bases. That was good enough to be named ECAC Division II Player of the Year, East Coast Conference Player of the Year, and an ABCA All-Region selection. Mendyk hit .276 while playing the second base spot for the Pioneers this spring.
Mark Moriarty may be out of Utica's dugout this summer, but a prospect from his previous school, Concordia-Wisconsin will play in Utica. Nate Thyssen will join the outfield platoon after a .280 season at the plate that included five homers.
Wright State came up just short of making it into the NCAA tournament as an automatic bid or at-large, and the Horizon League stalwarts continue to grow their presence after the addition of Bear Bellomy last summer. Matt Jewell will compete with Pursell and Losekamp behind the plate, and an exciting prospect awaits in the 6'5, 270 pound mountain of a man known as Zane Harris. Harris sat behind explosive lefty Gabe Snyder at Wright this season as a reserve first baseman, and his own left handed bat could be an asset at Donovan Stadium, where the wind often blows towards right field.
As for other newcomers without immediately known ties to the Blue Sox, current Division I talent dots the roster across the infield and outfield positions. Ohio University sent a contingent of three players including infielders Gus Cunningham and Devon Garcia, and outfielder Ryan Sargent. One of the more impressive young prospects from America's Dairyland will also come aboard in the University of Iowa's Adam LaRock. LaRock was held out of action this spring for the NCAA tournament-bound Hawkeyes, but sports a strong 60-yard dash time and is defensively gifted.
For those who may not know, incoming freshmen are also permitted in the league with commissioner approval, and the Sox are hoping Matt McDermott develops into a viable option at second and third base before heading off to join the Tribe at William and Mary this fall. He'll be one of multiple high school players that fans could see by summer's end.
When evaluating the pitching staff, the most noticeable feature when evaluating the remaining roster is a prevalent lefty presence. Last season's Blue Sox thrived despite having a strong right handed majority on the bump, but the player personnel staff headed by GM Butch Russo made it a point to grab more left handed arms in a challenging pitching market this offseason. Brent Kessinger from Division II's North Park and Michael Rogers from Ashland University are two such options, while draft eligible Jared Tietgen of Rio Hondo College and Logan Foster will also be on the roster as right handed options to begin the campaign.
The Utica Blue Sox begin their tenure in the PGCBL's East Division at Donovan Stadium on Friday when they host the 1-0 Adirondack Trailblazers at a special start time of 7:15. The Trailblazers sport some local talent in righty Jon Hardy of Clinton, SUNY Poly's Jake VanBeber, and LaFargeville native Matthew Valin.